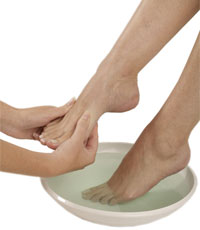 Soak & Revive
Pour 10 ml of the Sh'Zen Spa Additive for Feet into a foot spa or warm bowl of water - these beautiful green crystals contain oxygen releasing agents to soften the skin, as well as Ti-tree and Niaouli essential oils, well known as highly active anti-septic and anti-bacterial oils.
Allow the feet to soak for 5 mins to refresh, and soften the skin, then use the Sh'Zen Scrub Stone and/or the Sh'Zen Foot Rasp to remove the build up of dead skin around the heels and toes.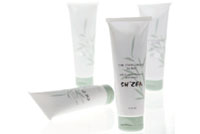 Polish to Perfection
The
Sh'Zen Exfoliator for Feet
is a triple action product - Ground Almonds exfoliate, Peppermint refreshes and stimulates, and Almond, Carrot and Avocado oils nourish and treat. Apply 5ml to each foot and massage in well.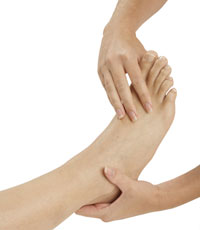 Shape and Tidy
Shape the toe nails and clean the cuticle area with the help of the Sh'Zen Hoofstick and Sh'Zen Nail File.
Unwind & Destress
For a superior massage experience, you are spoilt for choice with Sh'Zen Massage any one of the products mentioned below to relax and de-stress hard working feet.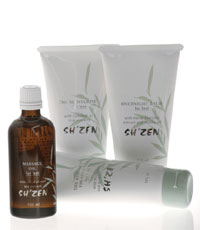 The Sh'Zen Relaxing Treatment for Feet is a thick, mask-like cream with St John's Wort, Sandalwood and Lemongrass extracts to calm and condition the skin.

The Sh'Zen Massage Oil for Feet, containing Frankincense and West Indian Sandalwood, can be combined with the Sh'Zen Overnight Balm for Feet or the Sh'Zen Moisturiser for Feet for the ultimate pampering experience.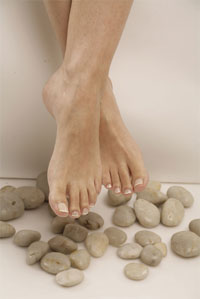 To supercharge micro-circulation and for heavy legs, massage in the Sh'Zen Energising Cream for Heavy Legs - nine essential oils including Basil, Ti-tree and Sage combine to offer an invigorating and refreshing lift.

And for cold feet and during the winter months, the Sh'Zen Thermal Relief for Feet comes to the rescue - a firm massage helps to impart a pleasant warming/cooling sensation - Elemi, Capsicum and Arnica help further to stimulate blood circulation. Cover with a warm towel to enhance the penetration of these oils.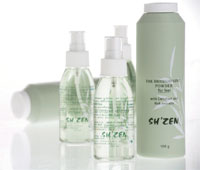 Happy, Fresh & Beautiful Feet
Spray feet and legs with the
Sh'Zen Cooling Spritzer for Feet
- a refreshing and instantly cooling experience with long lasting benefits. Contains Menthol and Ti-tree essential oils for their anti-microbial, antiseptic properties and Peppermint to refresh.
Then sprinkle the Sh'Zen Deodorising Powder for Feet onto the feet and into your shoes. This therapeutic powder contains herbal clays as well as Coltsfoot and Oak extracts for their absorbent properties.
Feet feel calm and relaxed, look beautiful - and smell great!