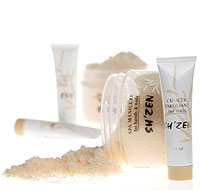 Soak & Relax
A five minute soak in the Sh'Zen Spa Manicure will revitalise dull skin and condition and brighten nails, as well as soften the cuticles. Containing Orange, Grapefruit and Lemon essential oils, known for their natural anti bacterial functions, these beautiful peach crystals also contain Vitamin C - a natural anti-oxidant. The essential oils also impart a zesty citrus fragrance which has a wonderful relaxing effect.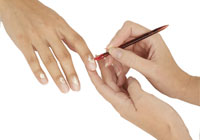 Soften & Neaten
Remove tough and overgrown cuticles with the
Sh'Zen Cuticle Exfoliant
- papaya fruit acids work effectively to smooth and soften - then push the cuticles back neatly with the Sh'Zen hoof stick.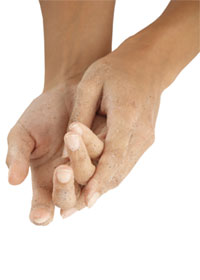 Exfoliate & Renew
Hands need a thorough exfoliation to smooth, clean and soften, as well as to prepare the skin for the treatments ahead - the
Sh'Zen Exfoliating Cream for Hands
contains purified volcanic ash and ground Almonds to remove the build up of dry, hard skin. Massage with a little warm water to leave hands feeling softer and looking more beautiful instantly.
File & Shape
Shape the nails while sealing the edges with the glass
Sh'Zen Nail File
to give nails a professional, neat look - whether long or short.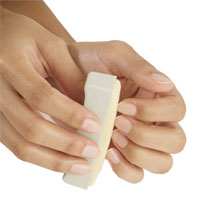 Naturally Glossy Nails
A high gloss buff to smooth the nail can form the ideal base for the perfect application of varnish - or even better, as a beautiful natural shine. Use the emery buffer to smooth ridges and remove discolouration, and the chamois buffer with the buffing powder to polish the nail. Regular buffing with the
Sh'Zen Nail Buffing Kit
also increases circulation in the matrix area, which stimulates growth and strength in the nail.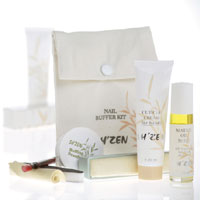 Stimulate & Strengthen
Nails need extra care - particularly if weak and damaged. The
Sh'Zen Matrix Oil
is a rich cocktail of vitamins and minerals essential for healthy, strong nails. Grapeseed, Jojoba, Wheatgerm and Carrot oils offer their cellular regenerative abilities when massaged into the matrix of the nail. Apply the Sh'Zen Cuticle Cream onto the nails to help repair and condition dry, cracked cuticles.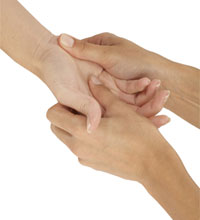 A Face Mask for Your Hands
Time to nurture and treat with the
Sh'Zen Treatment Cream for Hands.
A rich, ointment like cream containing Lime Blossom and Aloe Vera to soothe, calm and revitalise the skin - and with the perfect 'slip' for the perfect massage.
Apply to one hand, cover with gloves and wrap in a warm towel for an intensive moisture burst for your skin. Apply 5ml to the other hand and massage firmly. After five minutes, repeat the process on the other hand.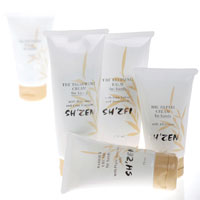 Moisture and Pamper
Finally, complete the specialised Sh'Zen manicure with an application of one of Sh'Zen's hand creams.
The Sh'Zen Repair Cream
has Allantoin for its healing properties, the Sh'Zen Barrier Cream has wonderful protective qualities, and the Sh'Zen Refining Balm for Hands is a luxurious cream with anti-ageing benefits.