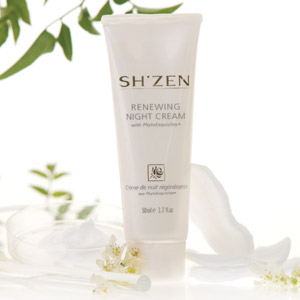 The Renewing Night Cream with PhytoExquisites
TM
A beautiful facial treatment with a rich, melt-in texture to feed and nourish your skin while you sleep.
The precious essential oils of Rose, Neroli and Jasmine stimulate the skin, enhancing its vitality and radiance, whilst Rosehip, Blackcurrant, Baobab and Safflower Oils, with their rich Omega-3 and Omega-6 content, rejuvenate the skin and promote elasticity and suppleness.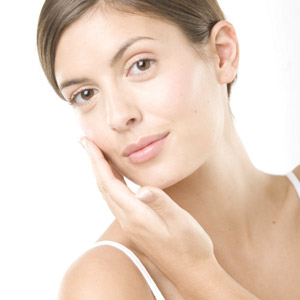 This product contains an innovative, botanically-derived Anti-Ageing Skin Complex which provides long term moisturising benefits to the skin, using a special combination of Abyssinian Oil and Beta-Sit sterol, leaving it feeling softer, smoother and more supple. Natural Olive and Safflower Oils work in synergy to provide the skin with rich sources of Vitamin E, and Omega-6 Fatty Acids, which help to restore that youthful appearance whilst you sleep.
How to use:
Daily — every evening;
Apply to a perfectly cleansed face;
Massage gently into face and neck with fingertips, using upward circular movements to stimulate circulation;
For maximum benefits use with a drop of the Sh'Zen Facial Essence or Radiant Serum with PhytoExquisitesTM.
How it works ...
Extra hydrating plant oils of Rosehip, Blackcurrent Oil and Baobab contain essential fatty acids which moisturize your skin while you sleep.
The Anti-Ageing Skin Complex promotes:
Retention of essential fluids for toning and removal of wrinkles;
Omega-3 and Omega-6 essential fatty acids for nutrition of epidermal tissue;
Vitamin E to protect against oxidation;
Softness of the upper skin layers, and;
Cell membrane integrity to promote youthful tissue tone;
PhytoExquisitesTM nourish and rejuvenate the skin while helping to diminish the appearance of fine lines.
The result:
On awakening, a more youthful, deeply moisturised and rejuvenated skin.
More:
Apply after a bath or shower while the skin is still damp — or mist with the Sh'Zen Floral Hydrating Mist with PhytoExquisitesTM to increase water permeability.