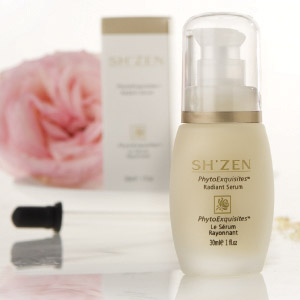 Radiant Serum with PhytoExquisites
TM
A potent revitalizing formulation, the Sh'Zen Radiant Serum reduces the signs of chronological ageing caused by environmental stress.
Aloe Ferox and Baobab Oil are expertly combined to rehydrate and rejuvenate the skin, whilst extracts from natural silk and French rose water harmonise with the precious floral oils of Rose, Neroli and Jasmine to refine, resurface and re-texturise the skin. Works immediately to enhance the complexion, even skin tone and restore the appearance of radiant youth.
This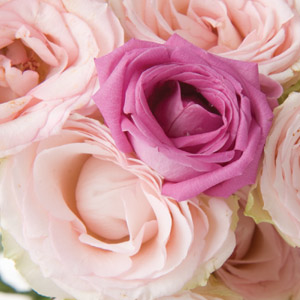 rich formula helps to minimize blemishes and re-energizes the skin's natural renewal process.
How to use:
Daily — morning and evening;
Apply 1 - 2ml onto dry skin on the face and neck;
Massage onto face and neck with fingertips, using upward circular movements to stimulate circulation;
Use just before applying your Sh'Zen Day Cream SPF 15 or use as a stand alone product for instant radiance.
How it works ...
Silk Extracts plump up the skin and help the skin to retain moisture while giving the skin a pearly lustre;
Extra hydrating Blackcurrent and Camelia Oils contain essential fatty acids to nourish while increasing the skin's elasticity;
Floral waters provide longer term hydration;
PhytoExquisitesTM nourish and rejuvenate the skin while helping to diminish the appearance of fine lines;
Rosehip Oil helps to minimize age blemishes.
The result:
Skin firmness, elasticity and glow is restored with every use.
More:
Blend the Sh'Zen Radiant Serum with the Sh'Zen Essence for a super rich massage. Also, add this serum to your day cream to provide a lustrous base to your make up.