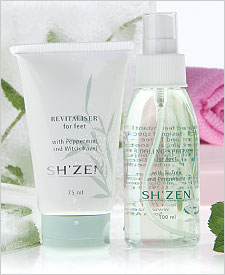 Cooling Spritzer and Revitaliser
$24.48 save $12.00
Nature's natural coolers
Your feet, and legs, will thank you every time you use these two essential summer products.
Peppermint and Ti-tree in the Sh'Zen Cooling Spritzer for Feet bring instant relief to tired, hot and swollen feet, while the essential oils in the Sh'Zen Revitaliser help to reduce swelling and calm uncomfortably hot feet.
Just one spritz — or a quick massage with feather like movements — will bring immediate relief to busy
legs and feet.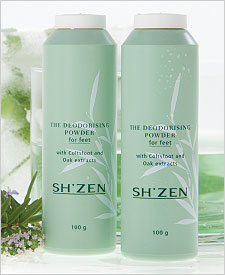 Happy Feet – 2 for
$21.68 save $10.00
One of our top selling products — that delivers every time! Keep your feet smelling, and feeling, sweet and fresh all day long with the Sh'Zen Deodorising Powder for Feet.
Much more than a regular powder, this highly specialized therapeutic product contains Oak and Coltsfoot, plus herbal clays to keep your feet dry and comfortable while absorbing perspiration and odour. Essential extracts have anti-fungal properties, too.
Sprinkle into your summer sandals and sports shoes to keep feet feeling great!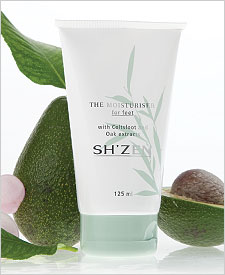 Foot Steps
$15.64 save $5.00
One of the 'must-have' products for happy feet!
Keep your feet healthy — and happy — with the Sh'Zen Moisturiser for Feet. Containing the natural extracts of Oak and Coltsfoot, a daily application after bathing will ensure that your feet are fresh and deodorised all day long. Light and easily absorbed, yet rich in Avocado, Carrot and Wheatgerm Oils, this product is a delight to use.
Follow with a sprinkling of the Sh'Zen Deodorising Powder for feet — for maximum benefit.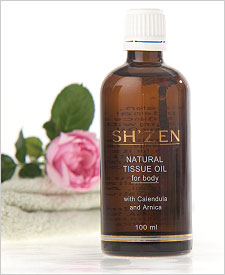 Radiance in a bottle
$31.75 save $10.00
Gold in colour and rich in the actives of Calendula, Carrot and Arnica Oils, the Sh'Zen Natural Tissue Oil is designed to bring a natural radiance to your skin. This superb tissue oil is a highly specialized, multi-purpose rejuvenator. A real summer essential — regular use will prolong and highlight your tan, too!
Massage into your skin after bathing... your skin will smell gorgeous, feel brand new and look absolutely beautiful.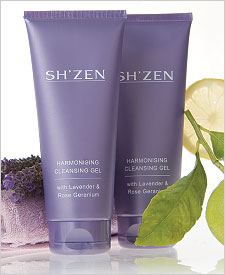 Scent Surround! 2 for the price of 1
$20.64 save $20.64

Surround yourself with a beautiful fragrance while enjoying a relaxing bath or shower with the Sh'Zen Harmonising Cleansing Gel.
Lavender, Geranium, Lemon, Mandarin and Sandalwood essential oils, sought after for their healing and uplifting properties, combine to bring their rebalancing and harmonising qualities to this beautiful body wash.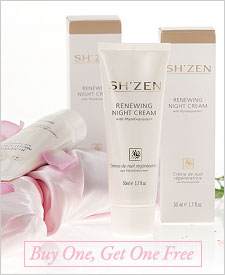 Overnight Sensation
$41.44 save $41.44
Restore luminosity and radiance while you sleep!
Night after night this luxurious cream helps to repair the ageing process of the day plus helps prepare the skin for the day to come.
A beautiful and intensive facial treatment that helps to stimulate and regenerate the skin through the night, when the skin is in its peak repair mode.
The Sh'Zen Renewing Night Cream will help to fight all signs of ageing, wrinkles, loss of firmness, loss of radiance and pigmentation — all while you sleep! Inspires feelings of being nurtured and cared for!
Skin is not only visibly rejuvenated, but will age more youthfully.
| | |
| --- | --- |
| Contains | Benefits |
| Anti-ageing Skin Complex | Repairs the skin overnight |
| RoseHip Oil | Rich in Omega's — naturally anti-ageing |
| Abyssinian Oil | Creates a dewy complexion — It is high in Linoleic acid, which is beneficial for the treatment of dry skin |
| Olive Oil | Promotes a smooth and radiant skin |
| PhytoExquisitesTM | Regenerate, strengthen and enhance the skin's luminosity |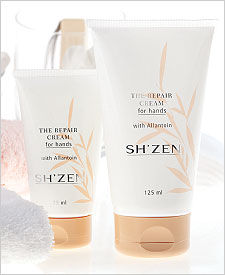 No 1 Repair Formula for your Hands
$30.00 save $10.00
When your hands look younger, so do you!
Repair — past damage to your hands
Delay — onset of ageing hands with Allantoin
Promote — beautiful, soft and supple hands
This duo of Repair Creams is a real winner — one for your handbag, one for next to your bed. The Sh'Zen Repair Cream (75ml and 125ml) will bring comfort and relief to busy hands with each application. Allantoin helps with the natural healing and repairing process, ensuring soft, supple and beautiful summer hands.
Regular use of the Sh'Zen Repair Cream will ensure that your hands always look beautiful, feel soft and conditioned, and are ready to face the busy day ahead!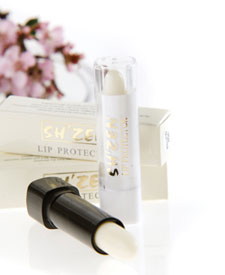 kissing it better
Two for $15.34 Save $7.00
Beautiful, full and voluptuous lips - no matter what the weather!
Enjoy a drop dead gorgeous smile with the Sh'Zen Lip Protectors. Wild Mango Extracts, Botanical Butters plus Vitamin E regenerate and condition, preventing dry chapped skin and the development of fine lines around the mouth. An absolute must for every handbag. With or without reflex of pearls.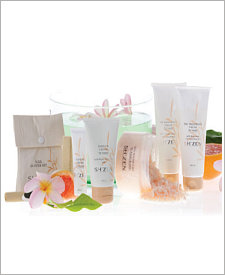 A facial for your hands
$81.30 for all 6 products save $37.00
Youthful, more beautiful hands – instantly!
STEP ONE
Revitalise dull skin, and condition and brighten nails with a 5 — 10min soak in the Sh'Zen Spa Manicure. A citrus delight containing Lemon, Grapefruit and Orange essential oils which have natural antiseptic and freshening qualities. The phyto-aromatic fragrance inspires and uplifts.
STEP TWO
Hands look instantly younger with every use of the Sh'Zen Exfoliating Cream. Volcanic Ash and Ground Almonds smooth, clean and renew — skin feels smoother, looks more beautiful in seconds.
STEP THREE
Give your hands a face mask with the Sh'Zen Treatment Cream. Simply massage the rich, ointment like cream with Lime Blossom into your hands, apply the gloves and sit back and allow the actives to soothe, calm and revitalise your skin.
STEP FOUR
Finally, apply the Sh'Zen Barrier Cream with Phyto-Aromatics, a superb protective cream with a subtle, fresh fragrance, and then massage the Sh'Zen Cuticle Cream into your cuticles to complete your at-home treatment. Make sure you repeat this routine at least once a week, and for gloriously glossy nails, buff with the Sh'Zen Nail Buffing Kit for a professional finish to your nails.