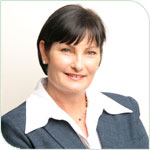 Glynis Richardson - success story
I suffered with
chronic dermatitis
on my hands, and over the years tried everything without much success. As a last resort, I wore little cotton gloves on my hands whenever I had to shop. So, when I read about Sh'Zen winning the Business Starters competition in the Fair Lady in 1989, two words jumped out at me - DERMATITIS and TREATMENT.
Having tried everything on the market still with no relief, I was ready to give this brand new range a try.
I started with the Cuticle Cream and the Repair cream for Hands, both rich in Allantoin, known for its healing properties, and supplemented these with the Sh'Zen Treatment Cream for Hands. All three gave me such immediate relief, and within a short time my hands were healing.
I was so delighted, that I just had to share my success with others - and so within days, I joined Sh'Zen, and so began one of the most exciting chapters of my life.
Belonging to Sh'Zen has meant being able to spend more time with my children, incredible personal growth, as well as the opportunity to travel the world.

Email Glynis: Glynis@shzen.co.za